Boolean networks are a particular type of finite dynamic system that has been widely used in modeling complex systems such as: social networks, communication networks and, especially, biological systems such as gene regulation networks and neural networks. Las redes Booleanas son un tipo particular de sistema dinámicos finito que ha sido ampliamente usado en el modelamiento de sistemas complejos como: redes sociales, redes de comunicación y especialmente sistemas biológicos como redes de regulación génica y redes neuronales.
This workshop aims at the scientific exchange on problems of Boolean networks and related combinatorial objects, from the point of view of discrete mathematics and computer science. Este workshop apunta al intercambio científico sobre problemas de las redes booleanas y objetos combinatorios relacionados, desde el punto de vista de la matemática discreta y ciencias de la computación.
Participation in the workshop is free of charge but requires prior registration to the email: iwbn2020 at udec.cl. La participación en el workshop no tiene costo, pero requiere de una inscripción previa al correo: iwbn2020 at udec.cl.
Scientific Committee

Comité Científico

Julio Aracena. Universidad de Concepción. Chile.
Eric Goles. Universidad Adolfo Ibáñez. Chile.
Adrien Richard. Université de Nice Sophia Antipolis. France.
Lilian Salinas. Universidad de Concepción. Chile.
Sylvain Sené. Université d'Aix Marseille. France.

Organizing Committee

Comité Organizador

Julio Aracena. DIM, Universidad de Concepción.
Anahí Gajardo. DIM, Universidad de Concepción.
Lilian Salinas. DIICC, Universidad de Concepción.
Christopher Thraves. DIM, Universidad de Concepción.
Program
Programa
To be announced. Se anunciará
Satellite School on Boolean Networks
Escuela Satélite en Redes Booleanas
This school will be held on January 6 and 7, it is aimed at graduate and advanced undergraduate students as well as researchers looking for a quick introduction to the main theoretical results about Boolean networks. Esta escuela se desarrollará los días 6 y 7 de enero de 2020, está dirigida a estudiantes de pre y postgrado e investigadores que desean una rápida introducción a los principales resultados teóricos en redes Booleanas.
The aim of this school is to introduce the Boolean network and the state of the art of the subject, so that undergraduate and graduate students can participate in the workshop that will take place between January 7 and 10. El objetivo de la escuela es presentar las redes Booleanas y el estado del arte en el tema, de modo que los estudiantes puedan participar en el Workshop que tomará lugar inmediatamente después.
The number of participants is limited, so those interested should apply before November 30, sending an email to iwbn2020 at udec.cl with the subject "Application to School in Boolenan Networks" where they express their motivation to participate in the school and attach their CV. El número de participantes es limitado, por lo que los interesados deben presentar su solicitud antes del 30 de noviembre, enviando un correo electrónico a iwbn2020 at udec.cl con el encabezado "Postulación a la escuela en redes Booleanas", donde expresan su motivación para participar en la escuela y adjuntar su CV.
There are a limited number of accommodation and food scholarships for students outside of Concepción. For those who require it, they must include the request in their motivation email. Hay un número limitado de becas de alojamiento y alimentación para estudiantes fuera de Concepción. Para quienes lo requieran deben incluir la solicitud en su correo de motivación .
Tutorials
Tutoriales
Julio Aracena, Universidad de Concepción, Chile.

Introducción a las redes Booleanas: motivación y conceptos básicos.

Maximilien Gadouleau, Durham University, United Kingdom.

Influence of the interaction graph on the dynamics of Boolean networks.

Adrien Richard, Université de Nice Sophia Antipolis, France.

Fixed points and feedback cycles in Boolean networks.

Lilian Salinas, Universidad de Concepción, Chile.

Dinámica de redes Booleanas con diferentes esquemas de actualización.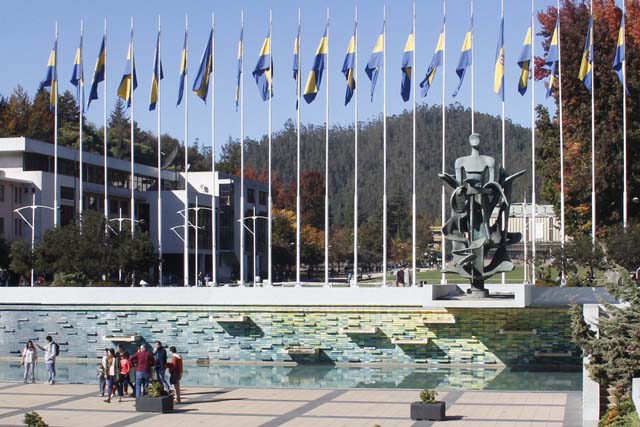 Facultad de Ingeniería Universidad de Concepción, Auditorio 105.